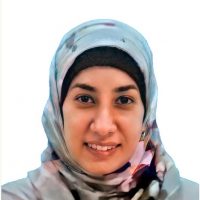 Dr. Rawia Tahrir Salih
Lecturer
An Academician with over 10 years of experience in both education and industrial sector, who is specialize in decision making and expert systems,  in addition to long wide knowledge in curriculum development with advanced abilities in lesson planning and proficiency in classroom management.
She studied her bachelor in computer science at the University of Baghdad from 2000 to 2004, and she graduated with the first rank among the 144 students.
In 2005 her good academic record granted her the opportunity to be hired as a lecturer at the University of Baghdad and pursue her master study in computer science at the university of technology – Baghdad to be graduated in 2007 with the second rank.
In 2010, she was invited as a scholar visitor for one year at Smith College – the USA under the Iraq women fellowship foundation program.  In 2011, she was a invited to attend the International Forum on Women in Science &Technology held in Kuala Lumpur. Furthermore, she is IEEE and IEEE WIE member since 2012.
 In 2012 She was a researcher follower at facutly of computer engineering in Universiti Putra Malaysia, Malaysia. In Oct 2021, She received her PhD degree for faculty of computer and information technology, Universiti Putra Malaysia  with certification of graduation on time (GOT). Her main interested research areas are Decision Making theories, intelligent system, and Multi-Criteria Decision Making (MCDM) and data mining