ORIENTATION MEETING 2021-2022
Posted by

Categories

News

Date

September 16, 2021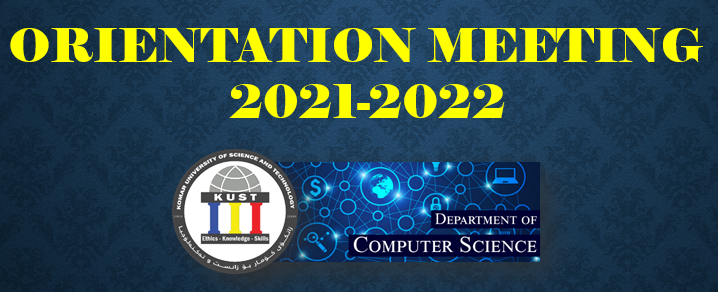 The department of Computer Science held the "Orientation Meeting" for the new Academic Year 2021-2022, on Thursday, 16th September for different batches F18- F20. The meeting was started by giving the welcoming message of Dr. Osman, Chairman of the Computer Science Department, and Dr. Shirin, Coordinator of the Computer Science Department.
In this meeting, the flowchart for the Computer Science Department was presented to the students. Dr. Osman explained the flowchart and asked the students to follow the same trend offered in the flowchart to be graduated on time as some of the subjects maybe not be presented in the next semester or the next two semesters again.
Besides that, the offered courses for the fall semester along with the name of the instructor were showed to the students. Dr. Osman introduced the new faculty members and talked about their backgrounds. Most of the courses are offered in the morning and afternoon shifts to help those students who work outside.
According to the comments of students, some syllabuses have been revised to fulfill the requirement and match the standard. Based on the university rules, 15 is the minimum and 18 is the maximum number of credits that students allow to take. However, if the number of credits is more than 18, the students need to take official permission from the department. The students can bring their laptop to the class with the permission of the lecturers to implement the tasks which the lecturer assign to them.
Finally, the rules of internship and final year project were discussed, and Dr. Osman asked the student to settle or matters regarding the internship before they take the final project to prevent any unexpected consequence.